If you are going to gamble and take a bet. Then let it be you. Yes, bet on yourself.  Bet on yourself that you can achieve what you want to do.
Earlier last month, I entered the yearly club competitions for the International Speech championship.  This year our club has grown and we had some good speakers.  I had some prepared speeches and some semi-developed ideas.   I took a chance and changed my speech to one of the semi-developed ideas.   The speech was not well versed and to be honest I was more testing and getting comfortable with that type of speech than delivering a pitch-perfect speech, as some of the other contestants.  I came third in the competition out of five contestants.  Only the first two could go forward.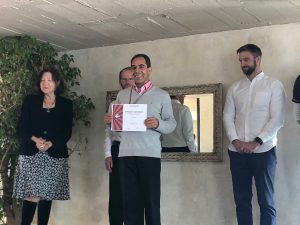 A week later, I had a light bulb moment.  What if I reentered the competition through another club.  That would give me another chance to compete and renter the competitions at the Area level.  My search and bet paid off.  I found a club where no members were competing.  I paid my dues and moved forward to the next level.  At the Area competition, I was aiming for the first, but once again last minute I came up with a better speech idea.  I changed and practiced the few times I could to get the flow right.  I competed and came third again.  I was again.  Only the first two go through.  However, I knew that every now and then one person drops off or cannot make it.  That would automatically give me the opportunity to re-enter the competition at the Division level.
The short story is I took a chance and I bet on myself.  It is not so much about winning the competition, but rather trying. I could have accepted defeat and sat back and waited for next year but while there are other ways, whether loopholes or not, one should try.  Try, try and try.   If you want to succeed you have to practice the habit of betting on yourself and knocking on every door.  It is all about trying different methods, ways and possibilities in order to move one step forward.
Who knows what will happen at the Division competitions.  I shall practice more, try my best and enjoy the journey.  The only failure is when you fail and stop and the only way to win is by failing and trying again. This is how Beate Uhse managed to go from poverty into creating one of the most successful companies in Germany.
Are you an entrepreneur or startup founder looking for an accountability buddy? Book a call and we can disuss how I can help you.